If you are planning to learn floral arrangements for the purpose of doing floral business such as running a floral shop, florist or offering flower decorating services for various events, it is mandatory to earn the skills of wedding flower arrangements and funeral floral decorations as well. Quite frankly speaking, many people are apt to ignore to learn funeral floral arrangements although most of them are eager to earn wedding flower arranging skills.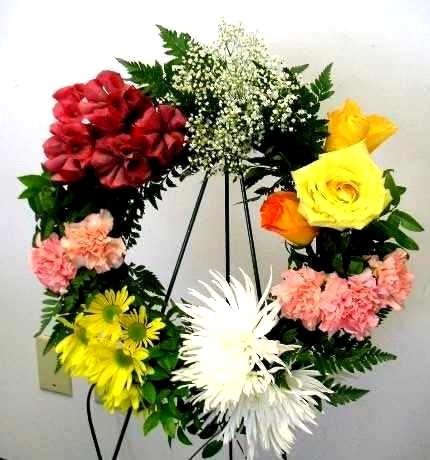 While most wedding ceremonies are held during spring and summer season, funeral ceremonies are often held during winter season. Namely when it comes to weddings, this event is very active during spring and summer. However in the winter season it does not have so much demand. On the other hand, we find lots of demand for funeral ceremonies during winter season seemingly because many of old people pass away during this season. Namely the active season of both events is opposite. If you are engaged in both wedding and funeral flower decorating services, it is easy to offset the season of slowing down. While wedding flower business is very hot, funeral floral business is less hot. While wedding flower business is slow (mainly in the winter), funeral floral business is very busy.
By way of offering both services, your floral business can be stabilized, which is ideal when operating any kind of business.
This is one of reasons why our school teaches not only wedding flowers but also funeral flowers. Here is our
Wide Range of Programs
where you can find your favorite program/course depending on your needs. For more information, please contact info@california-academy.com


Be the first to post a comment.

If you are looking for reliable floral design instructors or flower arranging classes that offer quality lessons with cheap, inexpensive and affordable tuition, why not join
California Flower Art Academy
who is certified by Flower Decorators Association (Tokyo, Japan). We help you earn practical floral design skills by way of hands on training of ONE ON ONE instructions (semi private lessons). We have classrooms in Silicon Valley (San Jose, Santa Clara County) and also in the San Francisco Bay Area (Burlingame, San Mateo County). If you live in this area you can easily commute to and from our school. We help you earn practical skills from European floral designs to Japanese Ikebana, wedding to funeral decorations and short seminar to official courses.
RSS
|